'Where pets go in Heaven to wait for their owners'

Whiskernook Beau Jangles  12/31/1999 – 10/3/2013
Beau was my heart and the most special Ragdoll I will ever have.  He was my second Ragdoll and my first show cat.  He is the reason I started breeding these wonderful cats.  He thought he owned me and was always near me, on my lap most of the time.  He was very easy-going with all the other cats and kittens, but he was very clear that my lap was his property and that he was the number one in the household.  Beau travelled with me to many shows, which made our bond that much tighter.  Through those shows, I met many Ragdoll breeders and got the encouragement to start a breeding program.  Beau was an alter, but I looked for his personality traits in my breeders.  I miss my boy so very much and think of him every day.  I love all my Ragdolls, but none will every take Beau's place.  R.I.P. my sweet Beau-Beau…

Luna (Kindred Spirit's Light in the Dark) 5/21/2009 – 7/31/2022
Luna was a wonderful tri-color collie who was AKC registered, but looked and acted like the old fashioned collie of old.  She was a true farm collie, who didn't approve of alpacas fighting or of squirrels and chipmunks invading the bird feeders.  She'd bark at the alpacas until they stopped fighting and often caught small mammals that she considered 'vermin'.  She had a long, happy life and we miss her dearly.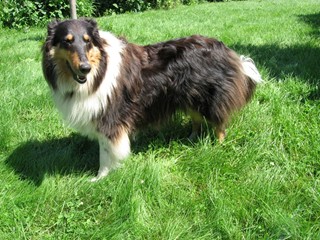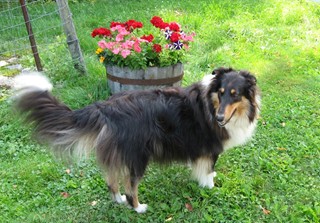 Delilah (Beechridge Delilah of FossMtn) 7/7/2007 – 5/13/2022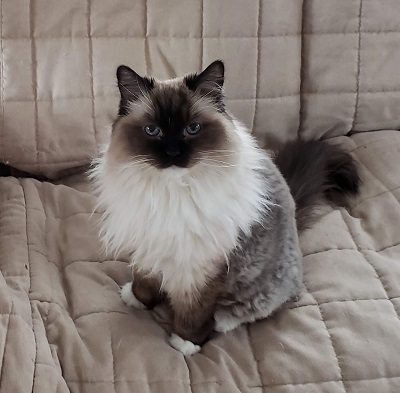 Delilah was a beautiful seal point mitted girl who retired from breeding after giving us some wonderful kittens.  She always got along well with all the other cats and with all the kittens.  She was playful until her last year and often had to be groomed with the 'Lion Cut'.  She looked adorable and knew it, even though I called her my little football because she was a little chubba.  We'll miss you 'Y-Y'.  (as in the song, 'Why, why, why? Delilah' by Tom Jones.)

Kasseldolls Maxwells Silver Hammer 5/15/2005 – 4/24/2020
Maxie was a very sweet blue colorpoint boy who started off as my show alter and did well in the show ring for a couple of years.  But he decided he didn't like showing as he got older, so we rested on his laurels here at home.  He was a loving pet who loved to sit on my lap.  He was tolerant of the other Ragdolls in the house and didn't even mind the pesky kittens that were around from time to time.  He left us at age 15 after getting cancer.  Rest in peace my lion boy.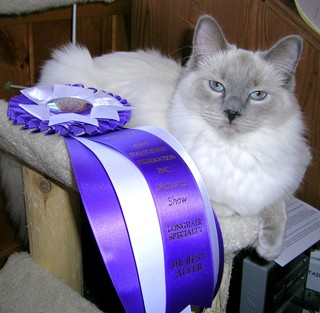 Teddy Bear   2009? – 8/27/2018
Teddy was a beautiful Pyrenees mix that we got from Big Fluffy Dog Rescue.  He was a typical Pyr –  he liked to do what he wanted to do and not necessarily what we wanted him to do!  He liked to be out at night, watching over the farm from his bed on the front porch.  We got very used to his barking whenever he heard or smelled something he thought was intruding on 'his' property.  He was wonderful with the kittens and cats, careful around the alpacas, and loving to visitors.  RIP Ted Bed.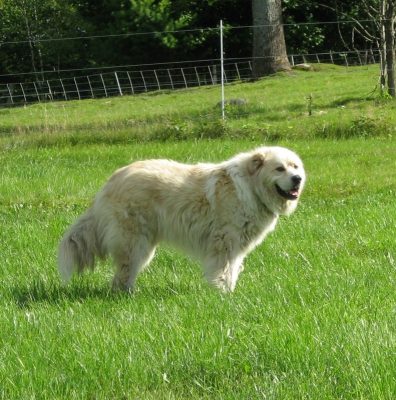 Mainelyrags MoonShadow of FossMtn – 5/17/2001 – 12/29/2017
Moonshadow was our first breeding female, who was delivered to me in 2001 at a cat show.  She was retired after having several litters and became one of our pets.  MoonShadow had a very old, traditional pedigree which lead back to the foundation Ragdolls, Josephine and Daddy Warbucks, in only a few generations. We are very happy to have her great granddaughter, Cassie, here to carry on those old lines.  Moonie had a long life, but in her later years had chronic kidney disease like many other older cats.  We miss you Moonie and your sweet ways.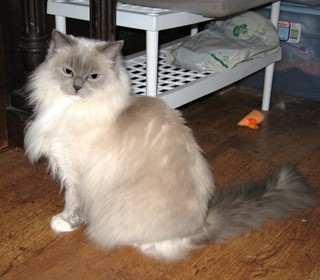 Biff  4/2002 – 9/20/2013
Biff was our stalwart livestock guardian dog until the end.  An Akbash Dog, Biff was bred to guard livestock and took his work very seriously.  He never stepped foot into our house until he was nine years old, and then only in the summer when the bugs bothered him.  He lived for many years in with the alpacas, and would run loose every night to patrol the property.  He was aloof, yet loved us in his own way and truly adored our neighbor and farm-sitter, Marnie.  He often visited her and brought back things from her yard, as if to keep her close to him when he was here.  Biff was very effective and we never saw any wildlife around our farm.  We truly miss him and that deep bark that told us all was being monitored.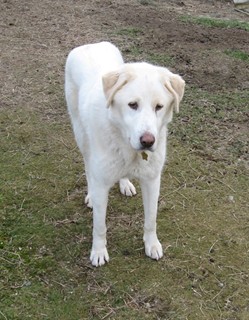 Romantic Rags Melody 6/28/2004 – 7/10/2013
Melody did very well for a number of years, considering she had kidney issues caused by a congenital deformity.  She was one of our sweetest Ragdolls, was a wonderful Mama cat and a great pet.  We miss her every day.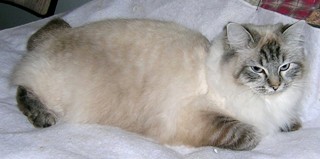 Whimbrel Marissa 12/2/06 – 9/13/12
Sweet Marissa left us too soon. She was a beautiful, quiet Ragdoll who passed on her beauty and bunny-rabbit fur to her kittens. We miss her funny little habits and sweet meows at mealtime. R.I.P. Marissa.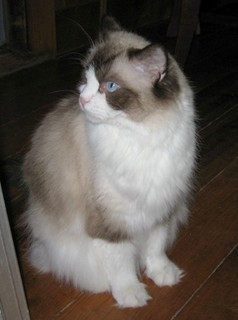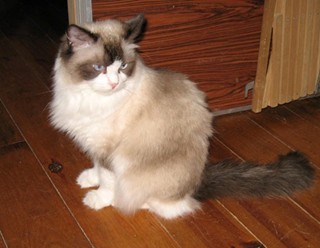 FossMtn Daphne 7/23/2002 – 2/4/2012
Sweet Daphne left us quietly when her damaged heart finally gave in. Born with a hole in her heart, the vets' didn't give her much of a chance as a kitten, but until the last couple of months, she lived a happy life. She loved the outside enclosure and spent most of her time out there during the summer, peeking out through the weeds that made it a 'cat jungle'. Now she is at the Bridge, where she can play with no shortness of breath and hang around the flowers forever.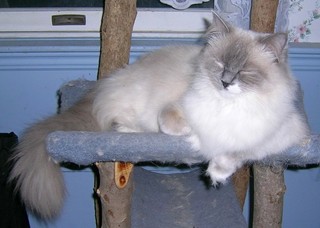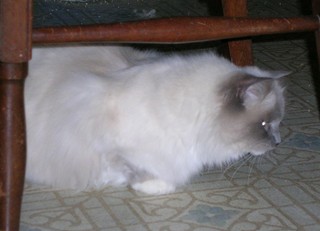 Storybook Rory 8/3/2001 – 12/24/2010
Rory left us on Christmas Eve, after suffering from a debilitating condition that eventually made it so he couldn't walk. He was mentally with us until the end and his passing has left a huge hole in our lives. Rory was the epitomy of a collie – loyal, kind, brave and beautiful. He was the fulfillment of a dream I'd had from childhood after reading Albert Payson Terhune books and watching Lassie on TV. He was the best of the best and I miss him terribly. May he rest in peace with Princess, who he always felt was like his mother.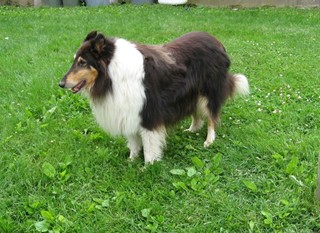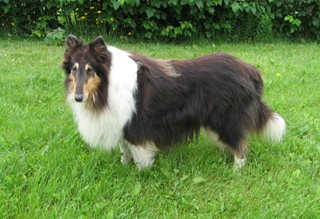 JimmyMack 11/21/2001 – 3/11/2010
Jimmy was our first stud boy and then retired to be our sweet pet. He was the epitomy of a Ragdoll – he was a lovebug, a flopper and had blue eyes that all Ragdolls envy. He had kidney failure at too young an age, but left behind many kittens, grand-kittens and great-grand kittens – two of which live here, Keziah and Delilah. I miss seeing him in the bathroom closet where he loved to sleep. Now he is hanging with the rest of the crew, waiting at the rainbow bridge.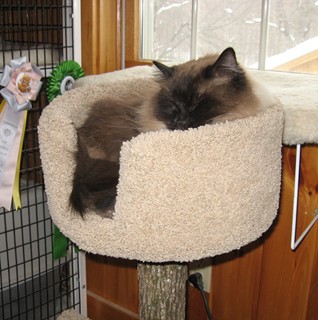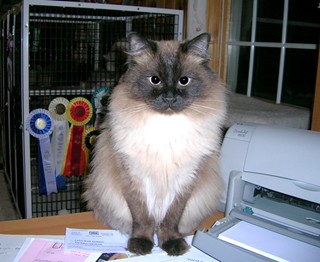 Princess the Pyr 1997? – April 2009
Our sweet Prinny left us to guard the farms in Heaven. She was such a great, sweet dog who was our pet, Rory's 'Mom' and a farm guard who barked at any intruders, helping Biff during the day while he took his rest. Now she is free of pain and back to her old self, waiting for us at the Bridge, and watching over all the lambs, goat kids and crias there.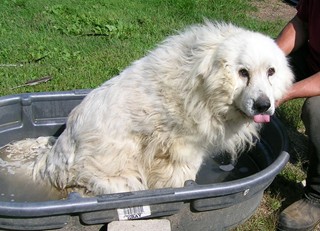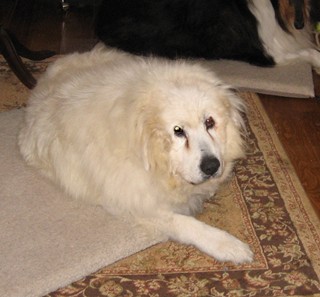 Blue Moon 3/17/1999 – 10/14/2008
Blue Moon was our first Ragdoll and is greatly missed. He became ill very suddenly with a red blood cell disease and we couldn't get him well. He loved the outdoor enclosure and spent most of the summer days out there.  He was very tolerant of all the Ragdolls who came after, but I'm sure he would have loved it if it had stayed only he and Beau!  R.I.P. Bluey.