We can't have a farm without dogs!!!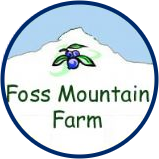 Lana had always been enamored of rough collies, so Luna came to live on the farm.  Collies, herding dogs as they are, can be avid car-chasers and Luna is no different.  We fenced in our back yard and she happily chases squirrels out there and hides bones in the raspberry bushes.  Because we live on a quiet country road, she does get time out of her back yard to go for walk most days.  Luna is Lana's favorite collie color – tricolor – which is black and white with sable touches.  Luna is wonderful in the house and is very respectful of the cats, though she would steal their food if she got the chance!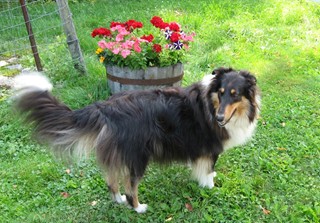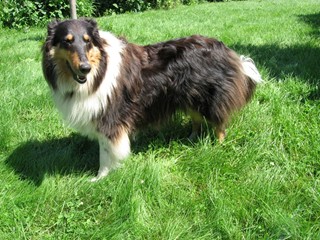 Teddy Bear is a rescue dog who came up to New England from an overwhelmed Tennessee shelter, through the rescue group Big Fluffy Dogs. (Check out www.bigfluffydogs.com ) He is thought to be a cross between a number of Great Pyrenees and a Borzoi great grandparent, according to his Wisdom Panel DNA test. He is a very sweet, calm boy with the temperment and body style of a Pyr and the beautiful coat color of an Irish marked Borzoi. He loves to be in the house with us, especially during bad weather, but does do a bit of guardian barking when he is outside. Teddy is wonderful with the cats and kittens, which seems to be a Pyrenees trait. We hope he will eventually understand that he is in his forever home. We thank Big Fluffy Dog Rescue for saving the life of this wonderful dog.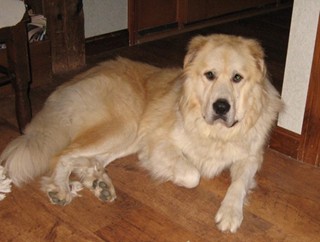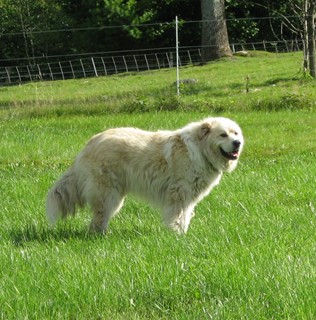 Many alpaca farms find that some type of fowl helps with bug control. We didn't want any noisy Guinea fowl, or loud and sometimes mean Geese, so resisted getting birds for awhile. But after seeing how the black flies and other bugs bothered our alpacas, we found the perfect breed of Ducks! We adopted three Muscovy Ducks, named Peter, Paul and Mary, who proceeded to produce many, many offspring. They became too much, so we sold the flock and kept two males to help with the bugs. One of them has since passed, so our only one left is 'Gimpy', who broke his foot as a duckling, but is still doing ok in his old age!