We are a small cattery, usually with two breeding females and one breeding male.  Our breeding cats are our pets too, and the females have the run of the house. Our stud boy has to be kept separated to assure a good breeding program. He spends his time in our Family Room, so is never lonesome, and when it is warm enough he can go out on our screened porch. Ragdolls do love their people, so we don't like to have him isolated.
All of our breeder cats have been tested, or their parents have been tested, for the gene that causes hypertrophic cardiomyopathy (HCM) in Ragdolls. All of them either tested negative themselves, or both of their parents tested negative.  If the parents are both negative, then the offspring is negative.

Cowboy (Kasseldolls Cowboy Casanova FossMtn)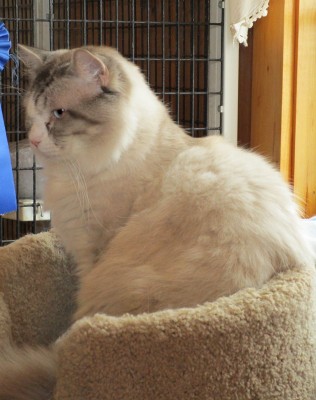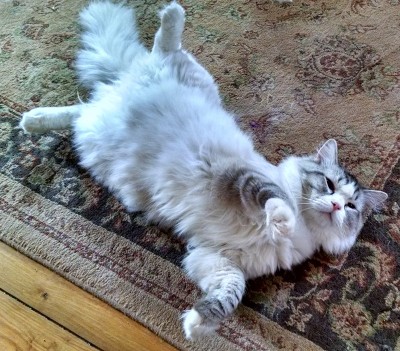 Cowboy is a seal mitted lynxpoint with a white mask that looks like a bicolor mask.  He is large, quite vocal, and loves to roll on his back to have his tummy rubbed.  His sire is a Supreme Grand Champion and his dam is a Grand Champion, so he comes from top-shelf Ragdoll stock.  His sire's color is chocolate and his dam's is blue, so Cowboy carries both blue and chocolate genetics.  This will allow us to produce chocolate kittens with Cassie as well as blue and seal kittens with her and Jolene.  He also passes on his lynxpoint striping to about half of his kittens.
Because he has the bicolor mask, Cowboy is not eligible to show.  However, he has beautiful type and a plush bunny coat.  His kittens have been wonderful, in both type and temperament.

Cassie (Kingfield Cassadee of FossMtn)
Cassie is a sealpoint mitted girl with a wonderful personality.  She has an old pedigree, with a FossMtn cat as one of her grandfathers.   Since her father was a bluepoint, she carries the gene for blue.  With her second litter, we color tested a couple of kittens and found that they were chocolate.  That means Cassie also carries chocolate.  So with Cowboy, she would make kittens in all three patterns with sealpoints, some blue points, occasional chocolate points and some of the kittens will have the lynx striping.  Cassie's kittens are sweet and active and love to play, play, play!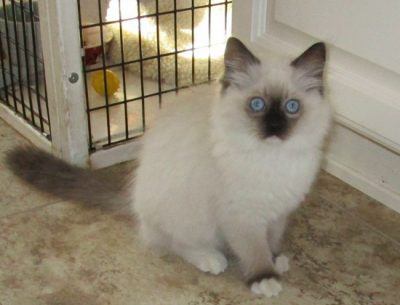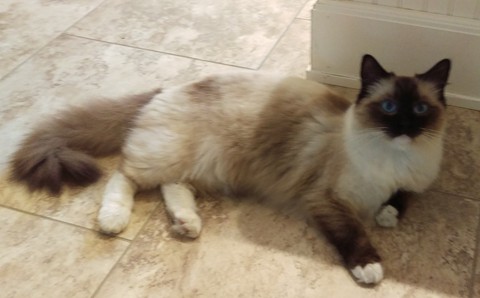 Jolene (WilletteRagdol Jolene of FossMtn)
Jolene is a beautiful blue colorpoint girl with the most loving personality and soft bunny fur.   Jolene, with Cowboy, produces sealpoint and bluepoint kittens in the mitted and colorpoint pattern.  Some will have the lynx striping.  Jolene is a true 'people person' and follows me from room to room.  She will also greet visitors who come to visit the farm.  Her kittens are beautiful, with typical laid back Ragdoll personalities.