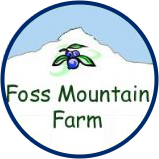 Our herd is composed of alpacas with heritage from all three South American countries.  We have nearly all the colors they come in.  Although we bred most of our girls in the early years, once we reached about 30 alpacas, we slowed down the breeding business and are now primarily a fiber farm business, producing fleeces for roving and yarn and selling finished alpaca products.
We do still, however, have a few alpacas for sale.  Some are listed below.  For a fully descriptive sales list, go to our site at  Openherd Sales List

Foss Mtn Royal Peruvian Venus
ARI #30642775 DOB 6/2/2008
For Sale: $1200.00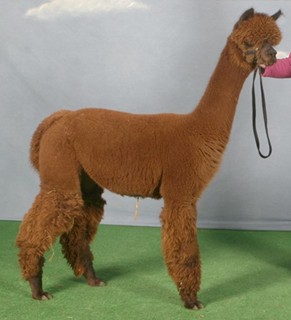 Venus is a beautiful, flashy, fine, medium brown female, who has a great pedigree. Her sire is Royal Peruvian Eros – a Royal Fawn grandson.  Venus has won blue ribbons in both fleece and halter shows. She has tons of color in her pedigree, including grey. She was very easily halter-trained, and was easy to show. Her dam, Kilblaan Farm Madeline, had 19 micron fiber at 5 years old.  Venus is now open and sells with a free breeding to any of our herdsires. We would recommend  breeding her to Galaxy, who is medium silver grey or to our rose grey boy, Guns N Roses to see if you can pull out the grey from her mother's side.

Foss Mtn Principio's Caribean Queen
ARI # 20037475 DOB 5/31/2009
For Sale: $6500.00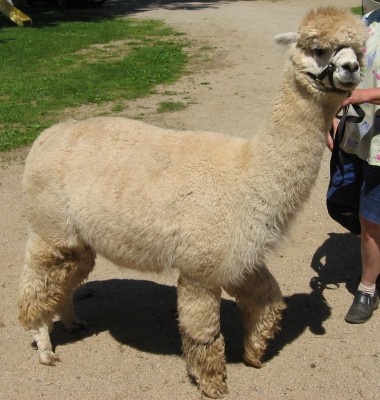 Queenie is a beautiful Principio daughter, with a perfect bite and dense, fine fleece. She has bloodlines which are now rare, as both grandsires, Coyo Destini and AML Legacy's El Duro have passed. With her heritage from AML Legacy's El Duro,, 4Peruvian Legacy, Coyo Destini, Royal Fawn, and the famous dam Mulowe, she is a keeper for sure. Her dam Cherry Bomb is an extremely dense and heavy-boned female.  Principio gave Queenie the fineness and beautiful fawn coloring.  Queenie has given us beautiful crias who also have great fiber. She is a wonderful mother, with plenty of milk.

Foss Mtn Tupelo Honey
ARI # 32590180  DOB 7/12/2011
For Sale: $2000.00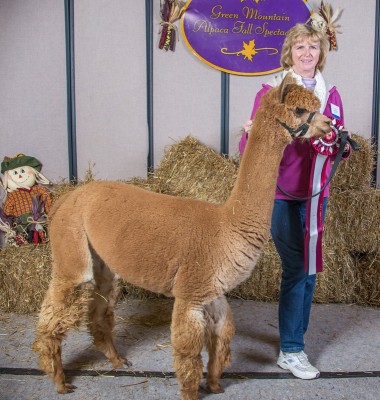 Tupelo Honey is a large girl with perfect conformation and dense fleece. Through her sire, ABRA Jaquara's Samuria, she has some stellar genetics, with Royal Fawn and Peruvian Hemingway in her background. Sammy also gave her gorgeous fleece.  Her dam is Foss Mtn Long Tall Sally, our Orion daughter, who gave Tupelo her large frame and perfect conformation.  Her fiber is beautiful. She has a good bite and has had great health. We showed her in halter classes at Green Mountain Fall Spectacular for three years and she placed with two fourths and a second.

  Herdsires
AAR Nova's Krypton
Stud Fee: $400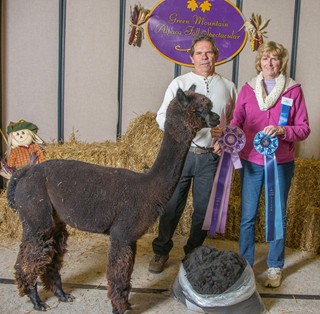 Krypton is a beautiful black Junior Herdsire . He is one of the last offspring from Snowmass Nova, with Snowmass Peruvian Casanova and Peruvian Bueno in his pedigree. He has dense, crimpy black fiber and has placed in both halter and fleece shows. He got Reserve Champion in the Green Mountain Fall Spectacular fleece show! He has a sweet temperment and great conformation with a very nice head.  He is one of Snowmass Nova's last sons and is a crimpy true black. His fleece won first in the yearling class and reserve color champion out of all the ages at the Vermont Green Mtn Alpaca show in 2014.

Silver Ledgend's Galaxy
Stud Fee: $600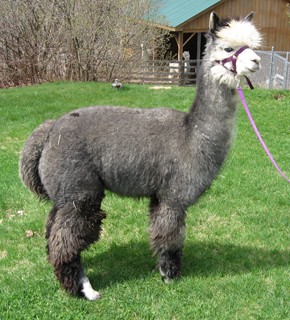 Galaxy is a beautiful classic silver grey male with dense, medium gray colored fiber with only one spot. He is fine and well conformed, with a sweet and calm disposition. He won a number of blue ribbons at both halter and fleece shows and won the color championship out of 15 greys in the New England Hands On Alpaca Fleece Off fleece show in 2010. He was one of the oldest in the group! Galaxy has wonderful genetics. In addition to Silver Legend of KPR, he also has Snowmass Peruvian Casanova, 5Peruvian Royal Inca Legend and Bueno in his pedigree. Two of his gray daughters had 17 micron fleeces, with low SD, on their second shearings. He now has three silver grey daughters and two brown daughters. His brown daughter had a 14 micron fleece at 10 months old, with SD of only 3. We're really thrilled with what he has produced.

Foss Mtn Guns N Roses
Stud Fee: $400.00
For Sale: $2000.00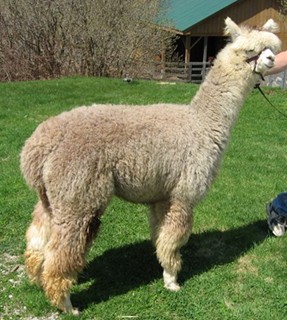 'Gunny' is a beautiful rose gray boy with a heritage that includes Silver Thunder and Bolivian Black Thunder. His sire is Thunder's Best, a Silver Thunder son, and his dam is our AAR Cinnamon Spice, who was our 'silver-maker'.  Gunny is a gentle, but large, young guy who is easy to handle and very curious. He won a third place ribbon in Vermont's Green Mountain Fall Spectacular as a yearling. Also as a yearling, he won a second place ribbon in the New England Hands On fleece show. He also won a third place ribbon at the New England Classic halter show as a two year old. The judge liked his density and soft handle.

Below are some of our other alpacas who live here at the farm.
Foss Mtn Troubadour – our appaloosa Orion son!
Troubadour is big and beautiful and has passed on his wonderful spots to two of Queenie's daughters, Pennies from Heaven and Athena.  He and his daughters have awesome fleece!  For people interested in breeding multi-colored alpacas, he is available for stud at $400.

Foss Mtn Pennies From Heaven
Pennies is an appaloosa daughter of Principio's Caribean Queen (Queenie) and Troubadour.  She has beautiful fine fleece and great conformation.  She and her full sister Athena are very close friends!

Foss Mtn Athena with Queenie in back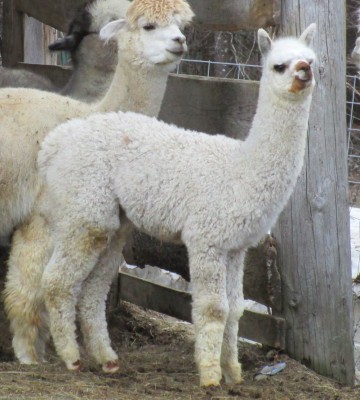 Athena was an 'accident', a result of some boys breaking into the girls stall one afternoon.  Thank goodness her color told us her sire was Troubadour!  (And the registry dna test confirmed it.)  Her fleece is soft and thick, with fewer brown spots that her sister Pennies From Heaven.

Galaxy's Cracklin Rosie – is she silver or rose???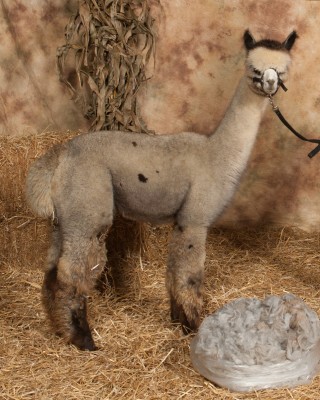 Cracklin' is light silver grey, but shows some rose gray too.  She has very beautiful, very fine silver fleece.  Her sire is Silver Ledgend's Galaxy and her dam is Kilblaan Farm Madeline (now sold).  She is a sweetie, and is our go to girl for the demos with the llamas and alpacas at the Fryeburg Fair.  She does the obstacles well!  Her yarn certainly looks silver grey!

ABRA Jaquara's Samuria – our beautiful boy, gone too soon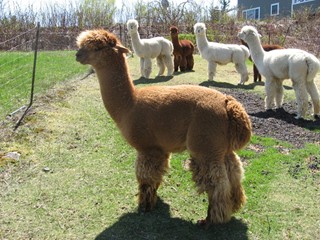 Sammy was one of the best herdsires we've had and luckily left us some wonderful offspring.  A boy with both Royal Fawn and Hemingway in his background, he stayed fine year after year.  His daughters Tupelo Honey and Vanilla Moon (living at Herd of Dreams alpacas in N. Conway) and his sons Axel Rose and Bon Jovi are testaments to his ability to pass on gorgeous fiber.  RIP my Sam…

Foss Mtn Axel Rose – 'Son of Sam'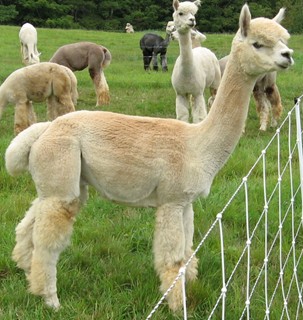 Axel is a gorgeous vicuna marked fawn boy who, like his father, holds his ears back most of the time and doesn't take 'no crap' from anyone.  He is a grandson of Orion, but has the smaller stature of Sammy.  He is one of our best fiber boys.

Foss Mtn Bon Jovi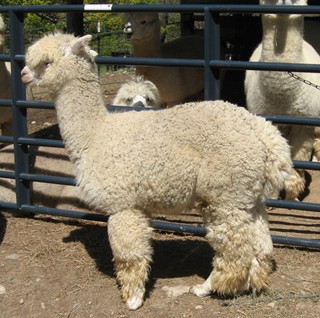 Bonjo has the best of both of his parents.  His dam, Cherry Bomb, gave him his heavy boning and his great density.  His sire, Sammy, gave him his fineness and manly personality.  He is our best white fiber boy, though The Boss would have surpassed him if he were younger…

Gunny & Troubadour out in the snow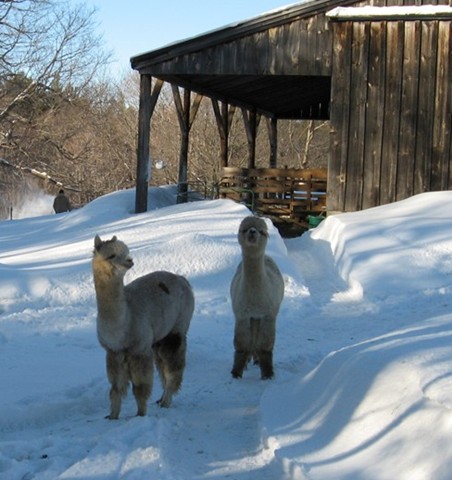 Gunny and Troubadour were born the same year and are still quite good friends.

MoonDance
MoonDance is one of our older alpacas, but still produces very soft fiber the makes very nice, cream colored yarn.  She is dam to Axel Rose and between her and Sammy, passed on the great "yarn-making" to him.