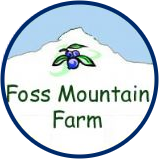 Once upon a time there were two Cape Cod people who skied, hiked and partied in the Mount Washington Valley and who dreamed of retiring there someday and having a little acreage, some dogs, a horse and, of course, Ragdoll cats.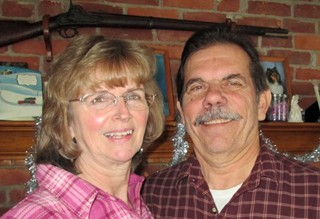 Well, life ain't no fairy tale, and the 'retirement' came a little early!! What to do when your company of 27 years merges with another and moves their office two hours away from you? At this mid-point of your life, you certainly don't commute the four hours round trip! You grab the package they offer, sell out your condo and your house and buy a farm in New Hampshire!!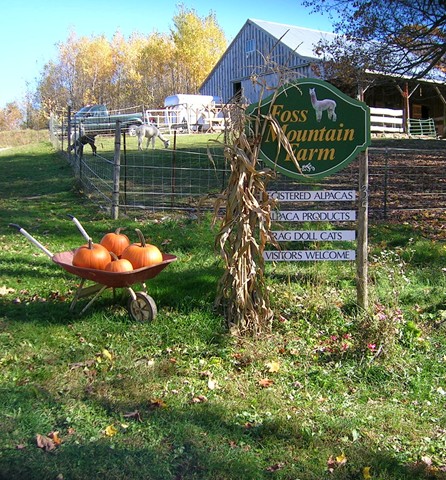 When 'early retirement' happened to Lana, Dick was very willing to support the speeding up of the 'dream'. But Lana felt that there should be something other than a horse in the pastures of this potential farm and a Ragdoll cattery in the house. So during the summer of 2000 they went to the Barnstable County Fair on Cape Cod to check out goats. At that point, Lana had already officially 'retired', but knew she had a year of 'consulting' left with her old company. Time to find the right animal and the right farm. So to the Barnyard show they went to listen to the explanation of the various breeds of goats. And what did they find? An adorable non-goat animal with a poodle cut, humming softly with it's friend. Experienced alpaca people will guess the end of this story.
Yes, we were stricken with alpaca-fever. During the next few months we travelled to the condo in N.H. and buzzed around with real estate brokers rather than skiing. We looked in the Mount Washington Valley area of New Hampshire and also in Western Maine. Luckily one can still find farms with open pastures there, but they are getting more and more scarce! Pastures grow in fast when they are not used! Luckily for us, we found our dream farm in a beautiful small town south of Conway.
By the year anniversary of seeing our first alpacas, we were once again back at the Barnstable County Fair. There we found Apricot and Cinnamon with their breeders and started down the path to purchasing our foundation herd. Lana and her Ragdolls moved full time to the farm shortly after, with Dick soon to follow. Three dogs were added to the crew over the first winter.  Lots of posthole digging, well-drilling and fence-building later, we were ready for our first alpaca girls – Cinnamon, Apricot, Caraz and Rose.  We also had two horses who arrived the same day as the girls.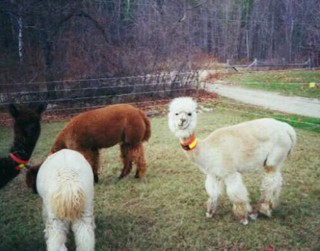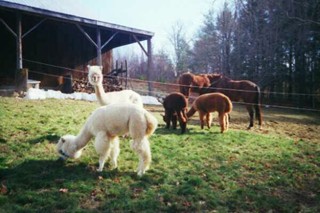 Inside the house, FossMtn Ragdolls was well underway, with two breeder girls, MoonShadow and Mandolin Rain, and a sweetheart of a boy, JimmyMack. Moonie and Jimmy are shown below.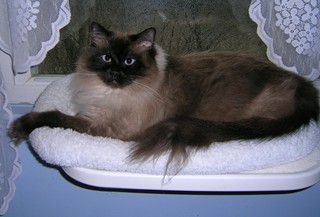 As the years have passed, the farm has grown, with more alpacas, more pastures and more cats in the house, though the cattery has remained small, with three queens and one male and the rest pets. The horses had to be re-homed in order to make room for more alpacas. We've sold some alpacas, but more have been born. We added a couple of goats and a couple of ducks. Come see our menagerie and the beautiful views we have of the western Maine mountains.
We love visitors!