These are my own pet cats and are not available for new homes.  Ragdolls are like potato chips, and I can't have just one!
Shakira (Galactic's Shakira of FossMtn)
Shakira is a beautiful chocolate lynxpoint Ragdoll with the most sweet and floppy temperment.  I met Shakira's sire, Tekila Moon, at a show, and he was such a beautiful, sweet boy, with a beautiful lilac lynxpoint coat.  He also had reached the highest title of Master Grand Champion in CFF.  So I told his owner, my friend Pam Scungio, that I wanted one of his kittens.  (Tekila Moon went to a safe home after Pam's passing.)
He didn't disappoint, as Shakira is everything I had wanted in a Ragdoll.  She made the most beautiful and sweet kittens in all the colors of the traditional Ragdoll.  She retired in 2021 and will stay with me forever as my little piece of Pam.

Angel Baby (Ch. FossMtn Angel Baby)
Angel Baby is the daughter of our long-time stud, Rusty.  She had a few litters, but is now retired as our pet.  She is a beautiful blue bicolor girl who greatly resembles her sire.  She is a bit shy for a Ragdoll, but is very loving to us, though retiring with strangers.  She lives mostly upstairs in our bedroom, but seems happy there, especially when there are pesky kittens running around.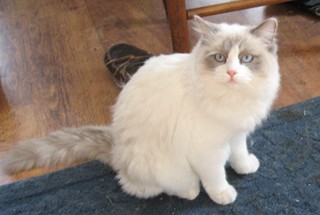 We showed Angel prior to her first litter and she received her Champion title.  But it was very clear she didn't like showing, but at least we got some good comments from the judges.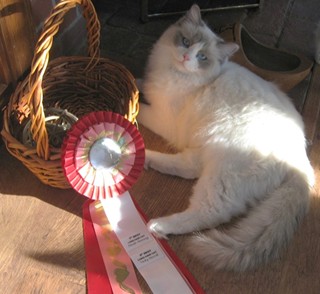 Nicole (FossMtn Noel Nicole)
Nicole is the daughter of Dorie Jo (now retired and gone to a new home) and Blaze, our retired stud boy.  She is a beautiful blue colorpoint Ragdoll who is a great size like her sire.  As a baby, she had a reaction to Clindamycin tablets which caused an esophageal stricture.  This made it difficult for her to swallow.  After numerous procedures to widen the stricture, she can now easily eat canned food and can also eat small kibble if she eats them a few at a time.  Because of her special feeding needs, we have kept her as our pet.  She is sweet, but very shy.  All those vet visits and forced medication have not done much for her trust in people.  She hangs around with Angel in the bedroom, though she does like the kittens and watching the birds from the kitchen window.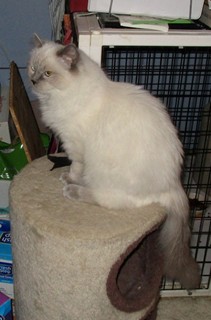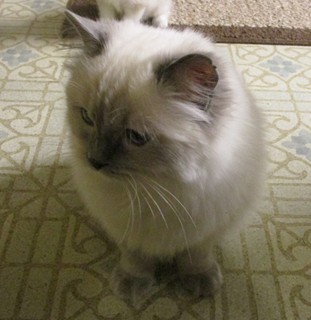 Blaze (Blue Gems Blaze of Glory of FossMtn)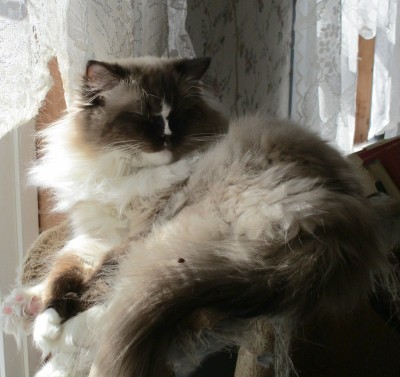 Blaze is a beautiful seal mitted boy with a perfect hour-glass blaze.  He was our stud cat who replaced Rusty.  He is big, with a very soft coat and very laid-back temperment.  He purrs all the time.   His pedigree is full of very large cats, from Soulmate and Rockinblues catteries.
Blaze went to his first Cat Fancier's Federation show in November of 2013, in the kitten class, and with many other Ragdolls in the class, was able to place in six of the eight rings.
Blaze produced his last litter, with Angel Baby, and is now neutered and retired to be our pet.  He did not like living a life separated, as breeding males have to be, so he is now a very happy boy, living with all the other cats and having the run of the house and cellar and cat pen outside.  He likes the kittens, and will groom and play with them.  He still thinks he's a Romeo and will occasionally chase a girl, much to the girl's dismay.  He always seems so happy doing that and I hate to spoil his fun, but a yell of 'stop that, Blaze' is usually my response.  He knows he's not supposed to be a pest, but geez Mom, it's fun!